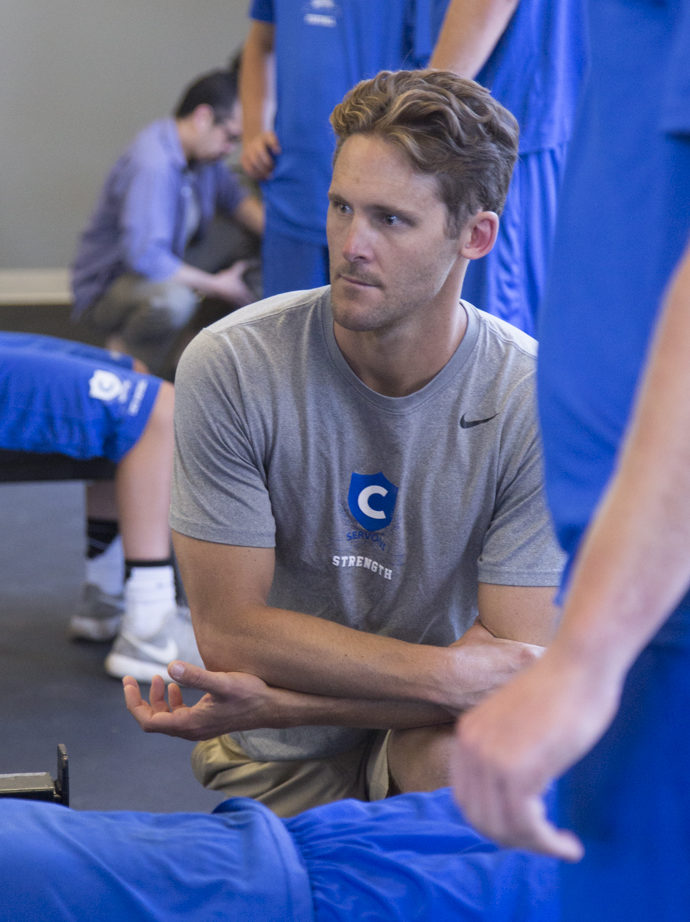 In this episode I talk with coach Erik Hansen from Cate school located in Carpentaria California. Coach Hansen is in a little bit different situation than most high school strength coaches since he works at a prep school , is the swimming coach, and lives on campus too. Cate is a top 50 school in the nation for prep schools and focuses on academics for their students but with coach Hansen and the other sport coaches there, they have a great athletic program as well. They may have a small school population but they excel in their sports and extracurricular activities too.
In 2014 Hansen had the privilege of renovating the Harcourt Fitness Center to accommodate team practices. The first team to participate in the program was the girls' volleyball, the second was football. Girl's volleyball won a CIF title that year and, for the first time in Cate's history, the football team did not lose any practice time in the pre-season due to injury and went on to be ranked first in the state. Prior to being the head strength and conditioning coach at Cate School, Hansen was the Director of Strength and Conditioning at Buenaventura Swim Club, assisting many swimmers to the division one level, the strength and conditioning coach for the Boys' Varsity Basketball Team at Santa Barbara High School and a volunteer assistant for UCSB's strength and conditioning program from 2006-2008 where he worked with men and women's soccer, men and women's volleyball, softball, men's baseball, men's and women's swimming and track and field. He is a Certified Strength and Conditioning Specialist (CSCS) from the National Strength and Conditioning Association, a Performance Enhancement Specialist (PES) from the National Academy of Sports Medicine and has his Master's in Physical Education from Azusa Pacific University.
"Erik Hansen would like to recognize Marvin Lowell and Mackie Greason for all their help in the development of the program in the last two years. Without Lowell, the first ever football Spring lifting group at Cate would not have gotten off the ground and Greason has played a vital role in enhancing the quality of instruction in the Strength & Conditioning class as well as in-season lifts."
Contact Coach Hansen:
email: erik_hansen@cate.org
instagram: https://www.instagram.com/catesandc
---
My name is Dane Nelson. I am a former college and high school strength coach. I created this podcast for strength coaches at any level but more specifically for High School Strength Coaches. I want strength coaches to be able to connect to each other and learn more about the growing field of full time high school strength coaching.  Thanks for checking out the website.  It would be great to connect with other strength coaches and talk about what works and what doesn't work when training high school athletes.  This is why I created this podcast. I hope  you find it useful and valuable!
Website: www.hsstrengthcoach.com
Contact me at hsstrengthcoach365@gmail.com
Twitter: www.twitter.com/strengthcoachHS
Thank you so much for listening and I would appreciate it greatly if you could leave a 5 star review in iTunes and Google Play as well as this really helps boost the show rankings and spread the word about the High School Strength Coach Podcast. That way other Strength Coaches like yourself can find the show and benefit from it too.
Thank you very much if you have already left a rating and feedback, I appreciate it greatly!